Essential Exercise is Binghamton's Premiere fitness studio. We provide personally supervised training exclusively by appointment in our private studio.
Our innovative training system is designed for you to the achieve your fitness goals from concentrated training sessions of 20 minutes. Our no compromise approach offers the ultimate in physical enhancement through prescribed exercise.
20 Minutes …  Really ?
By lifting weights on machines at a very slow speed we are able to produce a deep level of fatigue in the muscles. The demand is so extensive that in 20 minutes, all the major muscle groups, and the systems of the body that support them, are stimulated to produce physical improvements.
Real Results 
Our system is backed by years of scientific research and over 30 years of experience. We apply an evidence based system to improve the way you look, feel and function.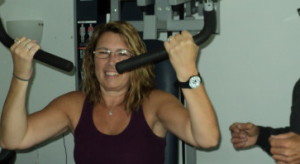 Improve your ease of movement

Increase fat loss efficiency 

Reduce neck and back pain

Improve appearance

Build bone density

Improve flexibility

Improve posture

Improve cardiovascular efficiency 

Increase insulin sensitivity
Lower blood pressure
A Remarkably Simple Application
At Essential Exercise Studio we use a slow speed of motion to lift and lower weights on machines. It has been understood for more than 30 years that by lifting weights at an extremely slow cadence you can stimulate lean tissue far more efficiently than regular weight training. Slow motion strength training limits force to an extremely safe level, in fact we have never produced one single injury as a result of our slow speed training.
Not Your Local Health Club
You no longer have to suffer through hours of wasted time in hot, crowded and loud Health
Clubs. At Essential Exercise everything you need has been taken care of, the studio is designed for your maximum efficiency. When you arrive for your training appointment each exercise machine is already set up with your personal adjustments and resistance.
Your experience will always be personal and private. Your instructor guides your attention for a focused and accurate session each time. 
Bettter Results in Way Less Time
You are closely supervised for every second of the workout, and your instructor records the details of your performance variables on each exercise. We use precise record keeping to tailor the dosage of the exercise to your individual exercise tolerance. For most clients best results are produced from training once every 3 to 7 days.
1-2 X Weekly
The Right Prescription
Our protocol relies on levels of precision that makes it truly the only form of total conditioning that you need.
Private One-on-One Instruction – Always by Appointment 
No Distractions – No Music , Mirrors or Spectators
The Best Equipment –  MedX Exercise and Rehabiltation Equipment and Specially Formatted Nautilus Equipment
Controlled Temperature  – Always a Well Ventilated 64°
Essential Exercise Studio is the area's first and only fitness facility to provide MedX Exercise Equipment. MedX Equipment operates at a very low level of friction and is bio-mechanically precise. This is the key to our incredibly efficient workout system.
When it comes to your health and well-being don't trust just anybody, rely on the experienced instruction at Essential Exercise.
Say yes to Strength and feel the difference today with a FREE consultation and orientation workout!